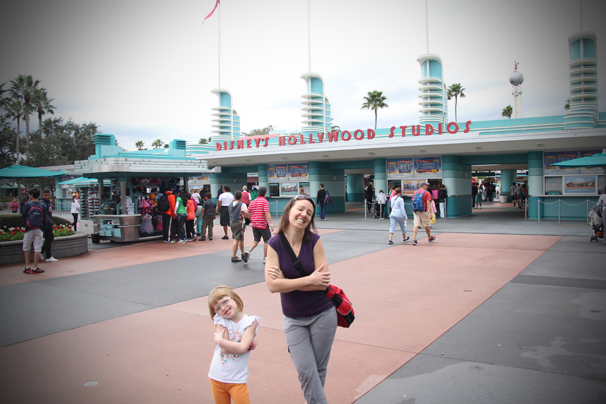 This morning we got up and ready and decided we wanted a buffet breakfast, so we booked a Character Breakfast at the Hollywood & Vine buffet just inside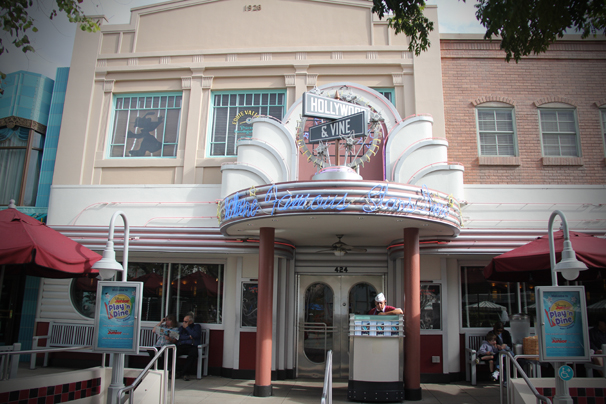 Hollywood Studios park (we still know it as the old MGM Studios). We caught the bus and arrived at the park around 0930, casually made our way in and found the restaurant.

While we waited to go in, the hostess attempted to have us guess by description what Disney Jr. characters we would be seeing (I guess Disney Jr. is a show on TV.  Who knew?). I'll just tell you the names without making you guess. There would be Handy Manny (Mandi guessed Fix It Felix), Oso (she thought it might be Kung Foo Panda), June (no guesses, but I would have mistaken her with Dora), Jake (no ideas, I guess he's a Lost Boy). Apparently they are all part of some show called Disney Jr. It's on something they called "TV". Huh. Breakfast was really good, feeding a 6 year old breakfast in a room with a 1-1 ratio of kids to characters, not so easy. But we stuffed some food in her little mouth and went to check out the park.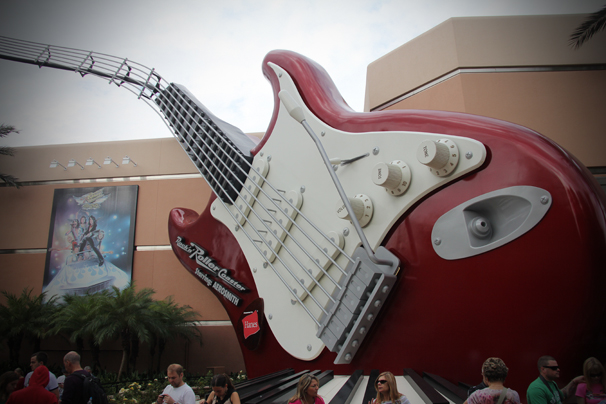 We had picked Fast Passes for today, but the fancy new ride in town, Aerosmith's "Rock'n' Roller Coaster" was a "48 inch plus" ride, so we had to take turns. I went there while Mandi and Nichole went to Toy Story Midway Mania, and she decided not to go on "Rock'n' Roller Coaster" at all. It was fun, good thrill ride, but I actually thought the themed atmosphere while we waited in line was better then the ride itself. And the gift shop had cool drum sticks. I picked myself up a pair later in the day.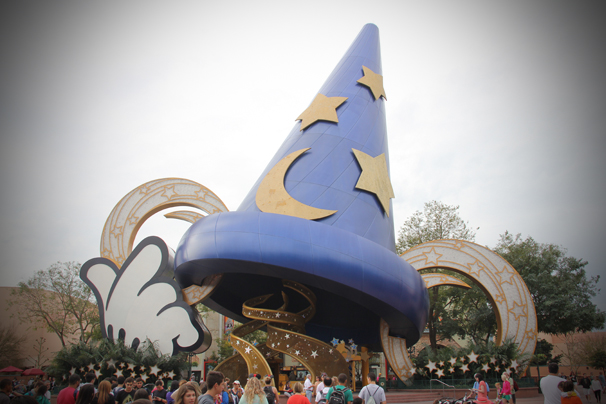 After our separate rides, we met up at the Magicians Nephew hat, and went to catch the last couple scenes of Indiana Jones Epic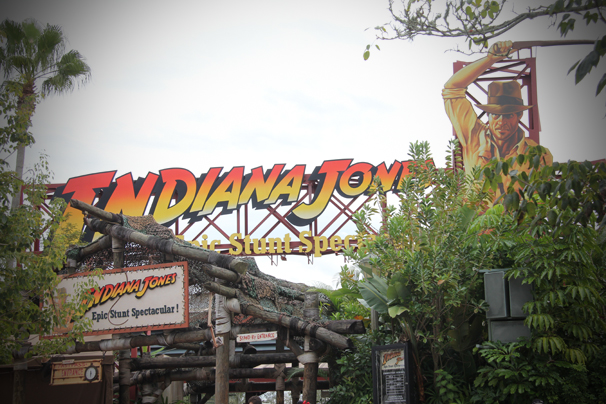 Stunt Spectacular. Really neat, Nichole was a bit concerned. We then attempted to check out Disney Junior - Live On Stage, but before the show started we decided to leave because Nichole's 6 year molar was hurting her and I wanted to get her some ice. She said it didn't help, but she didn't complain about it anymore, so it helped me!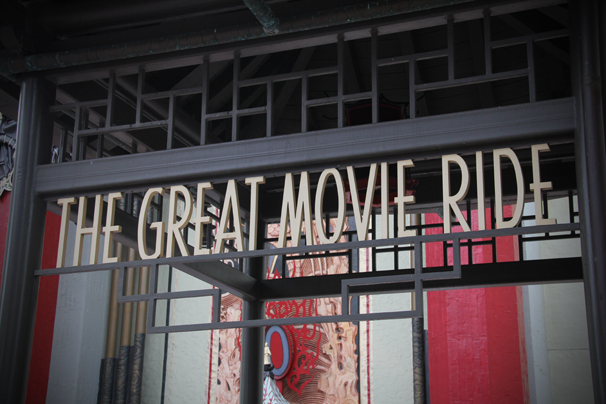 We had at least an hour before our Fast Pass for The Great Movie Ride, so we thought, even though we have a 15:25 FP for The Twilight Tower of Terror, we might as well see about getting on it now while we had time. You know the ride, right? The one based on a story of the Hollywood Tower Hotel elevator accident? Ya, well the elevator wasn't working so it was closed for the morning. Go figure. So we looked around, did some wandering, and made our way to our appointment at The Great Movie Ride as planned.

It was OK, a trip down movie-memory lane, if your in the 60+ age category. Plus Nichole cried most of the way through. After that, we grabbed some pretzel bread things and checked out some more of the park. I was almost ready to chalk the park up as 2 good rides, one out of order, and a bunch of effects-shows when we happened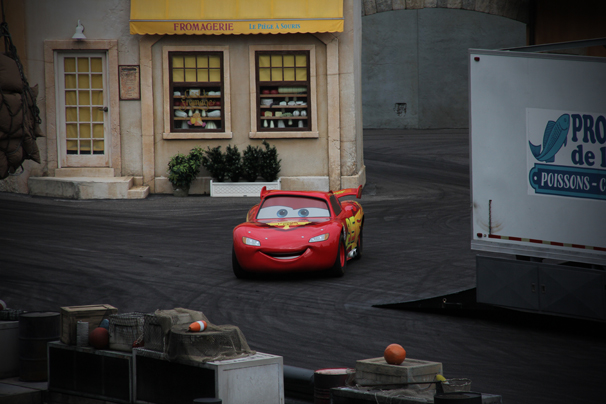 across "Lights, Motors, Action! Extreme Stunt Show" while looking for "Honey, I Shrunk The Kids Movie Set Adventure". It was excellent! I wish we would've got there to catch the start of the show. Really cool. After, we did find the "Honey, I Shrunk The Kids", but it had recently been turned into a play structure based on the movie as the ride had out worn it's welcome, I guess.

We skipped that in order to get to Tower of Terror early and maybe to go Downtown Disney for the afternoon. En route we passed by a meet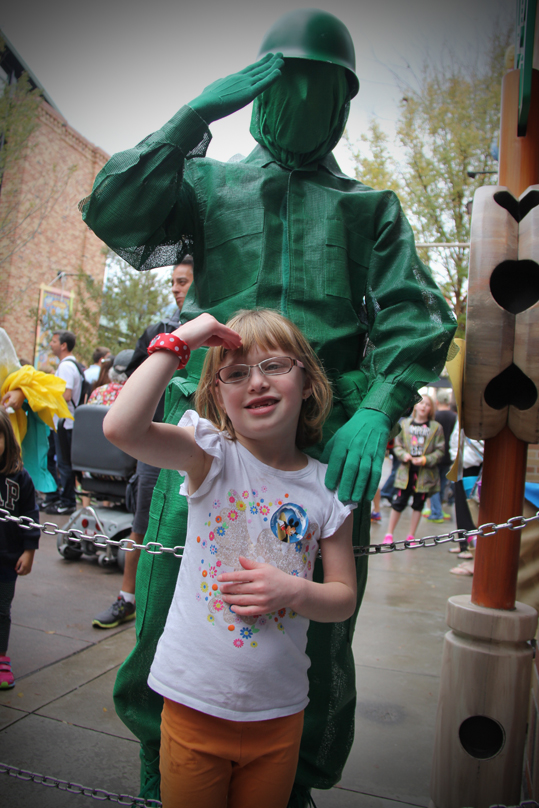 and great line for Woody & Buzz, and because it was raining and the line was indoors, Mandi thought it would be a grand idea to do that. I selfishly pushed on to the tower, getting there an hour before our Fast Pass time, only to find an hour long line. So, we went back to the meet & greet. It turned out to be a really fun line, and the characters were really great. Green Army Guy was also hanging around the line. I forgot to have Nichole say "Andy is coming!" to see if the would really play dead. I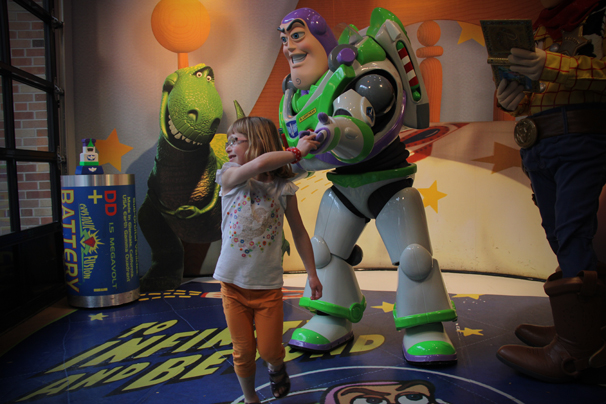 hope we get a chance to in the next couple days. While Woody was signing our book, Buzz started dancing with Nichole, and she completely confused him when he tried to spin her and she spun the other way.

On the way back for our FP at the Tower, some cast members were just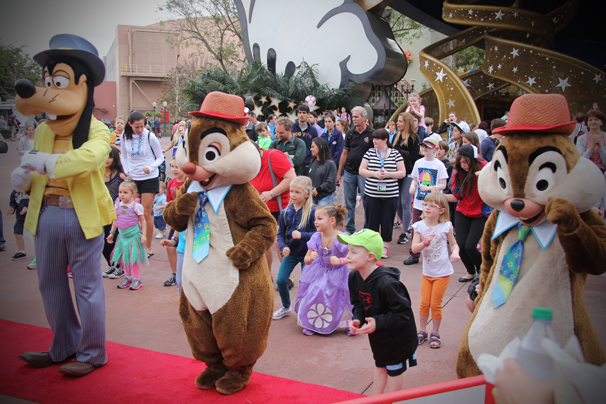 setting up for a dance session in the Magicians Hat Plaza with Chip N Dale (the furry ones), goofy and Pluto. Nichole got in the front row and took part in all the fun. That lasted for five or ten minutes, and after that we ran into a classic street performance put on by the Hollywood Public Works, same dept. that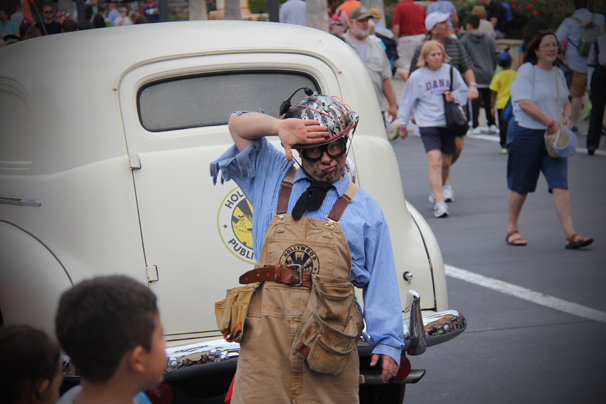 performed Plunger Olympics way back in 1999 only a couple blocks away! Different crew, I assume, but just as funny. These ones were spraying the trees for some kind of bug, apparently, and needed help from a young bystander. It was obvious they were using water, but funny nonetheless.

This time we actually made it to the Tower of Terror,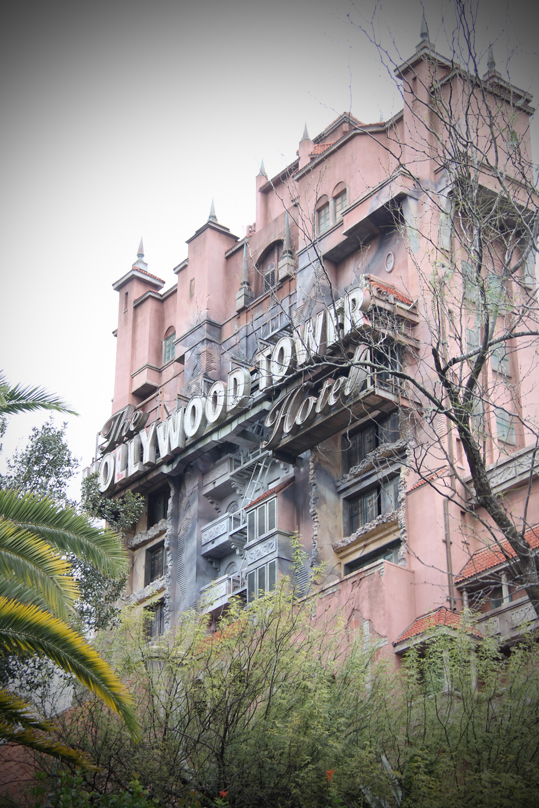 and got in and everything! Once again, great ride, and once again, scared kid. After it was all done, she wiped away her tears and asked if we could go again. The 120 minute sign at the end of the line made my decision for me. So, we checked out some shops, got a $12 balloon, and made our way to the bus station. From there we made a pit stop at our hotel to change and caught the water bus to Downtown Disney, just down the river.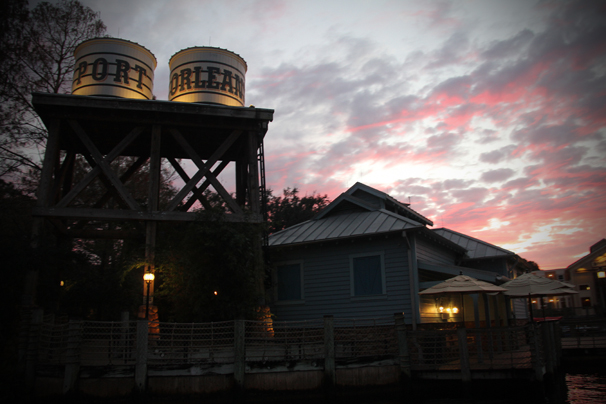 Nichole was starting to get grumpy, and as it was getting close to 18:00 those pretzels were starting to lose their affect, and we were starting to want food. On the boat ride there, Nichole met a really fun couple on their 20th anniversary travel that visited with her and kept her happy and occupied for the duration of the 30 minute trip. But as soon as we got off the boat and parted ways, Nichole let loose. I returned the shorts I got to the Rainforest Café, and we had a long talk. We finally got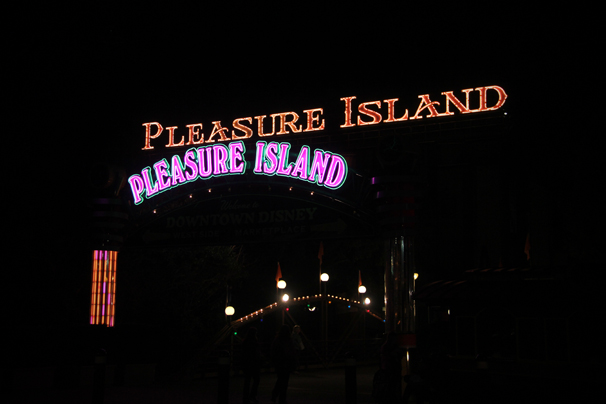 things under control and found the Wolfgang Puck Express for some much needed grub. By the time supper was over (pretty good, by the way) it was getting late, so we decided we should get to the bus stop and get back to our room. We stopped in at LEGOLAND for a quick peak and made our way to the bus depot.

We finished off the night on a high note, Nichole even did some homework, and once again everyone is asleep before me. If it wasn't for my desire to keep track of my daily events (just to clarify, this is here for me more than for you! :D ) I would be snoring along with them, believe you me!

And so, my sleep will begin now.